News
Fundraising Event in England
On the 16th March 2019 there is going to be a "rhythm - dance - story - song" fundraiser event in Forrest Row, East Sussex, England. All profits are for Haskey Project and Ethum Foundation!
We are very happy that Musah is going to be there to represent Haskey Project.

For more Infomation: http://www.musumba.com/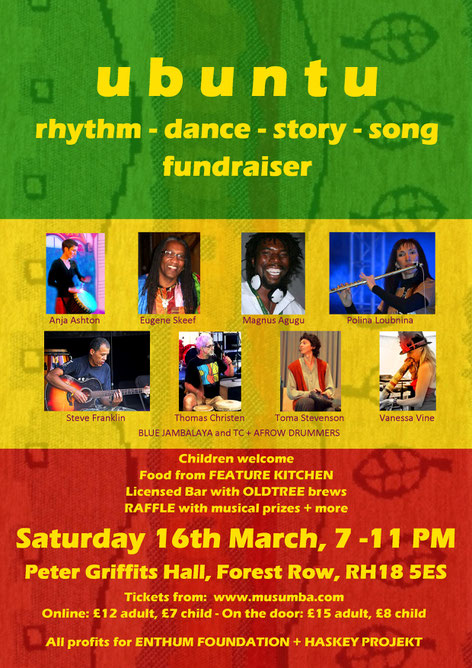 Donations from Precious Child Foundation
October 2017: We are very happy to announce that the Precious Child Foundation has kindly made a generous donation of food items and water to our facility and has promised to stay in touch and keep the support up. We are very thankful for this support which means a lot to us and the children we take care of. May God bless you! 
5 years anniversary of Haskey-Projekt Ghana e.V. in Bochum/Germany
28th September 2014 Bochum/Bahnhof Langendreer
Haskey-Project Ghana celebrated its 5 year anniversary and informed about its work for disabled children in Ghana. The audience got entertained with a nice program of african and world music, drumming, african food and a children's program. Musah Abubakar and Johanna, recently returned volunteer from Ghana, informed about the news, improvements and challenges from the project in Ghana.
Send-Off Party for our volunteer 7th August
Today we have celebrated the Send-off Party for Madam Johanna Kieser. She will leave to Germany after 9 months of good work. We thank her for everything she has done for Haskey-Project Ghana.
Summer Vacation
We are on summer vacation from
21st July to 15th September 2014.
1st Haskey-Project Workshop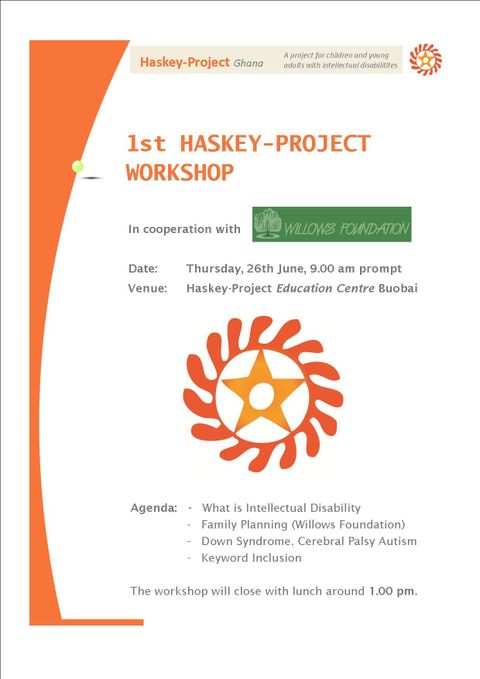 Easter Vacation
We are on easter vacation
from 18.04.2014 to 19.05.2014