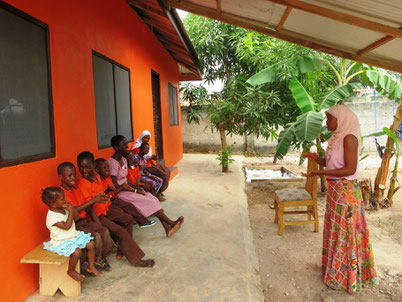 Haskey-Project Day Care Centre Kumasi
Our Day Care Centre for children with and without intellectual disablilities is located in Buobai, Kumasi. It was inaugurated in November 2013 and we have a two-room building and a courtyard with a small playground available. A team of committed caregivers is taking care of a growing group of children with intellectual and physical disabilities.
We provide a stimulating and appreciating childcare and education experience according to our pupils' individual abilities. The focus is laid on encouraging the children's confidence and independence and the development of functional skills in order to support them to become as autonomous as possible in their future lives.
How to find us
You can visit our Day Care in Buobai (behind Asokore-Mampong) or you drop in at our office in Aboabo (opposite Aboabo Postoffice). Ask for Alhaji Ghana or Madam Jalila.
Contact
Chairman Haskey-Project Ghana
Mr. Alhaji Ghana: Tel. 0264 261196

Coordinator Day-Care
Mrs. Jalila Issah: Tel. 0244 255173